10 Power Dressers With Style So Bold, They've Become Our 2016 Fashion Icons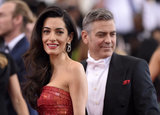 Power dressing is about so much more than mastering what to wear to work. A confident woman who maintains her sense of style has a wardrobe full of separates she loves, and she can tell you just the reason why. She's probably got a structured suit that makes her feel sexy, and one that looks just right with her "presentation pumps" – and yes, they just might be Christian Louboutin or Stuart Weitzman.
When it comes to power dressing, there's room to incorporate trends into eye-catching ensembles that are comfortable, bold, and most importantly, personality-defining. The 10 women below – some of which are fictitious TV characters played by fierce stars, others being politians or actresses – took the art of power dressing to another level in 2015. They elevated their outfits with a wink, proving they're smart, savvy fashion girls at heart. In short, this list consists of the icons we're taking with us into the new year, and we highly suggest you follow suit.
Share:
loading...