11 Reasons Sandy From Grease Is Still the Ultimate Fashion Icon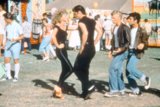 When it comes to iconic characters with killer fashion, the list is a mile long: Blair Waldorf's the Upper East Sider with a passion for headbands and designer duds, while ladies everywhere still obsess over Carrie Bradshaw's closet – especially that shoe collection. But the onscreen style star whose looks we'll always love? Sandy, the good girl gone bad from Grease.
From those full, feminine skirts to that statement-making black outfit, we've learned so many lessons from Danny's other half, all of which we still put into practice today. Read on for a few of the best as we gear up for this weekend's Grease: Live, then check out the most fashionable TV shows from 2015.
Share:
loading...