15 Breakout Style Stars From 2015 Who Aren't Going Anywhere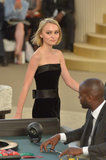 Let's just say we didn't get bored in 2015, finding new models to follow on Instagram and lusting over designer campaigns that featured fresh faces. We obsessed over a handful of breakout stars – ranging in age from 14 to 33 – all of whom have an undeniable eye for style.
Some of the 15 ladies here "got it from their mama," like Lily-Rose Depp, who bears a striking resemblance to actress and longtime icon Vanessa Paradis, and Kaia Gerber, who could easily be mistaken for model veteran Cindy Crawford. Meanwhile, others like Zendaya, Lily James, and Daisy Ridley turned heads all on their own.
Read on to find out who you need to start following immediately, and study up on the milestones these lovely ladies reached before 2016 – they've all had a hell of a year.
Share:
loading...