15 Fashion Rules That Are Best Left in 2015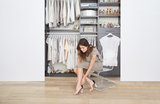 If there's one thing that fashion's pretty famous for, it's the long list of supposed dos and don'ts. Never wear white after Labor Day. Ditch the horizontal stripes. Make sure everything matches perfectly. It can be stressful, to say the least, sucking the fun out of something many may use to express themselves.
So as we ring in 2016, we're solving this style dilemma in the simplest way possible: we're going to rebel. Read on for 15 rules we're ready to break in the new year, then check out our ultimate fashion resolutions, ensuring that its your best dressed year yet.
Share:
loading...