15 Ways to Avoid Looking Like a Marshmallow in Your Puffer Coat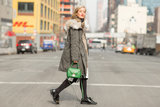 Throughout the Winter months, we're usually faced with a major style dilemma: Do we dress for warmth? Or sacrifice comfort for fashion? It's a catch-22, each option with its own list of pros and cons, and combining them both always seemed impossible.
Until we scrolled through Instagram.
While it may seem like the fashion folk spend snow-filled weeks beachside in bikinis, they do rock puffy parkas on occasion. So how do they manage to make 'em look so darn good – much like everything else they wear? Keep scrolling for a few styling tips and inspiration, ensuring this Winter's just as warm as it is cool.
Share:
loading...