22 Downright Adorable Pics of Our Favorite Fashion Bloggers and Their SOs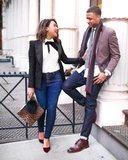 One scroll through the feeds of street-chic bloggers like Rumi Neely, Jane Aldridge, and Kelly Framel, and you'll find their partners pulling off eye-catching outfits, too.
Our favorite thing about this crop of noteworthy couples is that they almost always coordinate their outfits – right down to their Ray-Bans – for formal events, vacations, or weekend sessions of Neflix and chill. Read on to get to know some of the most fashionable duos on Instagram, all of whom we highly suggest you follow in time for Valentine's Day.
Share:
loading...