22 Fashion Gifts For Every Type of Friend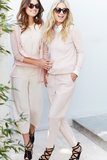 Sorry, Taylor Swift. We know your squad's pretty much packed with models and actresses and all-around lovely people, but have you met our group of girlfriends? To put it quite simply, they're the best of the best, so when it comes to the holidays and gift giving, we like to go all out.
However, we can't just slap a bow on a knit sweater and call it a day. There needs to be meaning behind what we get them – something that goes well with their specific personality and that they'll get good use out of. Ahead, we've rounded up a bunch of items that every type of friend will enjoy, from the one who's curated the perfect Instagram feed to the one who's obsessed with her cats. Read on for a few ideas, and then shop the things that suit your girls. Cue that Gretchen Wieners quote: you are such a good friend.
Share:
loading...