23 Gifts to Buy When You Don't Know Her Size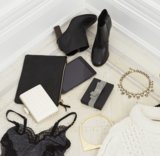 Buying gifts can be tricky – even if someone is your BFF, picking the right size isn't always easy. Luckily for you, these simple but stylish gifts require no measurements at all. Glittering jewels, cool caps, sophisticated bags . . . there are so many great pieces chic enough to make even the pickiest recipient happy.
You may think it's impossible to please everyone, but armed with these chic picks, you just might surprise yourself. Start shopping now to find the 23 gifts that are the easiest choices you just might ever make. Want more ideas for the rest of your list? We've got you covered with our ultimate holiday gift guide – check out the stylish gift ideas for everyone!
Share:
loading...