23 Stunning Antique Engagement Rings That Should Be Your Something Old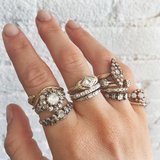 Picking the ring you'll wear to say I do is no easy task, but while you're busy eying emerald or cushion cuts, there's another style you may want to consider: an antique. It may be a family heirloom, or perhaps a piece that caught your eye while hunting for your dream ring, either way there's something extra special about a band that has a long, romantic history. Plus, vintage rings don't just look unique, they are often crafted by hand – how's that for special?
Read on for 23 incredible rings that span history from the Art Deco era all the way back to Victorian times. The gorgeous bands may convince you that you're ready to say "I do" to your something old and something new.
Share:
loading...