24 Fashion Hacks Every Woman Needs to Know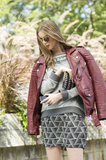 Sure, a lost button or red-wine stain could wreak havoc on your outfit plans, but armed with the right knowledge and know-how, these fashion catastrophes are surprisingly manageable. And while you may not consider yourself the most practical person just yet, these foolproof tips and tricks will transform you into a fashion handyman (err, woman).
So whether your wardrobe is already in need of rescue or you're just looking to ready yourself for whatever may be ahead, read on for a refresher. These 24 hacks can easily save your favorite outfits from total ruin. Because while you can't stop accidents from happening, you can stop them from spoiling the wardrobe you've worked hard to build.
Share:
loading...