29 Fashion Gifts From Amazon Prime That'll Get to Your Doorstep Freakishly Fast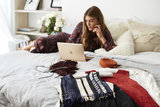 We told ourselves we had plenty of time to shop, but just like that, the holidays are here. And while those serious procrastinators can always reach for gift cards and cash, we'd like to think we're a little more sentimental than that – even if we waited until the very, very last minute.
Thankfully, the wonders of technology have our back, allowing Amazon to deliver gifts to Prime customers almost as fast as Santa's sleigh. Gather some ideas ahead, click to purchase, then be amazed at how fast these items end up at your doorstep. It's a merry Christmas, indeed.
Share:
loading...