35 X-Files Outfits That Are Almost Too '90s to Handle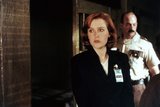 With The X-Files returning to TV tonight, there's no better time to discuss a topic weighing on our fashion-focused minds: Dana Scully's suits – especially from the show's first few seasons.
We should probably begin with the fact that, hey, the '90s were a rough time for style. Jackets and shirts came complete with shoulder pads, and tailoring wasn't quite as popular as it is now. This FBI agent's closet, however, was stocked full of the office-appropriate staple, and she frequently showed up ready to solve monster- and alien-related mysteries in different variations.
This time around, we're expecting things to be a tad different, with actress Gillian Anderson, who plays Scully, revealing to InStyle that her character's look has "evolved." Hannibal's costume director was brought on board for all six episodes and managed to take things in a "very classic" direction. But that doesn't mean we can't look back and reminisce about the old days. Read on to see some of Scully's best looks, then check out these photos from behind the scenes.
Share:
loading...