8 Reasons Harry Styles Will Never Go Out of Style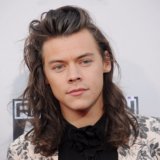 It's no secret that Harry Styles knows a thing or two about fashion. He knows what he likes (aka, black skinny jeans and boots), but isn't afraid to try out a crazy print every once in a while. We're breaking down some of Harry's craziest looks today in Oh Hey, No Way – check it out.
On Allison: Zara dress
On Ryan: H&M
Share:
loading...