9 Style Lessons to Learn From Canada's New "First Lady," Sophie Trudeau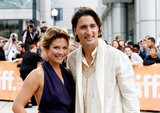 A quiet revolution has taken place in Canada, with liberal Prime Minister Justin Trudeau settling into life as the new Prime Minster following his October electoral win. Justin is the son of former Canadian Prime Minister Pierre Trudeau, whose stints in office are remembered for bringing a certain element of glamour to the country from the 1960s to the 1980s.
Now, the second-generation Trudeau is setteling in at 24 Sussex Drive, Canada's answer to the White House, with his three children and his wife, Sophie Grégoire-Trudeau. Much has been made about the young couple's modern marriage and their continuation of the famed Trudeau elegance. In an October interview with CTV, Sophie discussed how she and Justin work together. "I don't think it is my role to direct his policy decisions," she said. "That is his work – his choices. But does it mean that we don't have the conversations that are at the core of decisions? Yes we do, as human beings, as partners, because we're obviously shoulder to shoulder on this great journey. I'm there with him. We are partners on this path."
Sophie, who grew up in Montreal and studied communications, is certainly polished; prior to her marriage, she spent five years as an entertainment reporter for eTalk, interviewing stars including Matt Damon and Brad Pitt. She's been open about suffering from an eating disorder in the past, and she partially credits the study of yoga to her recovery. Now, Sophie is passionate about teaching yoga, especially to children. In addition, Sophie works hard to advocate for causes that help women. In the same interview with CTV, Sophie outlined how she hopes to focus on "gender equality, women and self esteem, eating disorders – anything that has to do with women's issues and children's is close to my heart."
Sophie has proven to also have great judgment when it comes to dressing perfectly for any given occasion. She's swiftly becoming a master of fashion diplomacy, choosing important Canadian designers on special occasions. Sophie is an emerging style star to keep an eye on – and here are eight reasons why.
Share:
loading...