Alana Hadid Isn't Afraid to Give Her Family Fashion Advice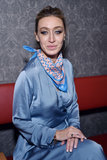 Fashion must run in the Hadid family. Gigi, Bella, and Anwar all have successful modeling careers, but it's older sister Alana who is having her breakout moment. The personal shopper, fashion entrepreneur, and stylist has teamed up with LOFT's line Lou & Grey for a new accessory collaboration. Alana debuted a bright bandana in December, with a small collection to follow in February. The inspiration behind the collaboration came from her "insane collection of vintage bandanas" and the rest was history.
Alana's collaboration is just the latest in a number of impressive fashion accomplishments the Hadid family has celebrated this year, including Gigi's upcoming capsule with Tommy Hilfiger. So where does the family's massive success in the industry come from? To Alana, it's all about passion. "You can be really successful if you're doing something you love," she said. "That is something that has been nurtured in our family."
The LA-based clan has a relaxed signature look (check out Alana's Current Moji tee line and you'll know exactly what we mean), but they're not just California girls. Alana and her older sister Marielle were born in New York, and she says the city has always influenced their fashion sense. Now that her siblings Gigi and Bella are increasingly bicoastal, Alana says the big apple is starting to change their style, too: "There's something more structured about New York, it's exciting to see what they're doing personally with their own style because they're evolving so much." Still, Alana's happy to give fashion advice when she can . "There's a lot of clothes borrowing and definitely suggestions on everyone's fashion, specifically my dad's. He's pretty dapper but daughters always like to give their dads their two cents."
As for her own look, Alana describes it as more androgynous, but that like her bandanas, her personal style is getting an injection of color come Spring. "I see such beautiful, feminine trends in 2016 and that's something that I'm going to delve into [more]."
Read on to see Alana's first bandana and get excited, because there's definitey more to come.
Share:
loading...