All the Street Chic Inspiration You Need to Beat the Snow In Style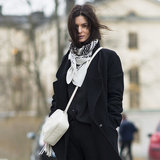 We're not about to let a little snow or ice stand in the way of a good outfit – especially since Winter is only just beginning. That doesn't mean going bare-legged or refusing to bundle up – remember, we want to look stylish, not clueless – but we refuse to wear a sleeping bag masquerading as a coat.
Clearly, this street styled crew knows the feeling, showing off a set of Winter-ready outfits that don't include oversize puffers or snow pants. Instead, their looks inspire a sleek, pulled-together standard for your cold-weather style, because a little inclement weather should never stand in the way of a great outfit. Click through for the inspiration, and prepare to layer up in style.
Share:
loading...