Amal Clooney Wears the Perfect Valentine's Day Outfit on the Job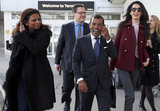 Before we saw Amal Clooney's outfit, we were planning a sophisticated Valentine's Day look. How could we pay homage to the lovey-dovey holiday without being too flashy? But in walks the always-stylish human rights attorney in complementing shades of pink and red, and we realized what we've been missing all long. Maybe the key is to be downright obvious about it – pair the girlie hues together, match with the damn decorations, and complete with your foolproof separates.
Amal was spotted at Heathrow Airport in London doing just that. She finished her dusty rose turtleneck with a cranberry coat, playing up its silver buttons with a chunky ring, then slipped into her gray trousers and patent leather oxford heels. Amal's ensemble was accessorized with a smart work tote and oversize sunglasses. And yeah, it instantly put hearts in our eyes. Read on to get inspired, then shop the essentials just in time for Feb. 14.
Share:
loading...