Brie Larson Is About to Be Your New Favorite Style Star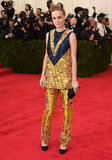 Brie Larson has been busy nabbing awards for her work in the movie Room, but her style is plenty noteworthy too. Brie takes risks – playing with bold prints, unexpected silhouettes, and over-the-top outfit combinations – and totally pulls them off, with help from stylist Cristina Ehrlich.
The actress is worthy of major praise because she's never afraid to experiment with tricky trends. From her playful Prada ensemble at the Met Gala to her unforgettable Calvin Klein dress at the Golden Globes, these outfits prove that when it comes to fashion, Brie is one to watch.
Share:
loading...