Dakota Johnson Won't Let a Wardrobe Malfunction Steal Her Style Spotlight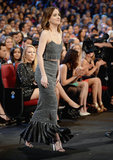 While there were plenty of note-worthy looks at the People's Choice Awards, we continued to search for "the one" throughout the night: the outfit that made us swoon, wishing we had something similar in our closets. Then, as if she read our minds, Dakota Johnson stepped on stage, accepting her award for favorite dramatic movie actress, and her sparkly, pleated set immediately won our hearts.
It was different and unexpected, and although the star almost flashed the crowd (and joked that we've seen it all before anyway) and even tore her seam, we're still in love with her look. Keep scrolling to see her ensemble from every angle – including her silver shoes and diamond drop earrings – then vote for some of your favorite looks from the night with this fun poll.
Share:
loading...