Everlane Just Made Pulling Off the Athleisure Look Easier Than Ever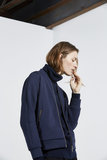 You already count on Everlane for its fashionable spin on the classics, but now the brand is taking on a new trend: athleisure. Everlane just dropped its new street fleece collection, which manages to perfectly marry sportswear with the sleek elegance we expect from the brand. The new bomber jacket and sweatpants are soft and cozy, like your favorite loungewear, but the structured designs look so stylish, we're betting your friends wouldn't blink an eye if you wore them out.
Everlane has amassed a cult following, and this debut is just a testament to the love fans of the brand have for the label. Already, the items have a wait list of over 6,460 people itching to get their hands on the cozy-cool collection. Scroll for a look and you'll see exactly why these are about to go down as the coolest sweats you'll ever own.
Share:
loading...