Gigi Hadid Stole the Cutest Jersey From Zayn Malik's Closet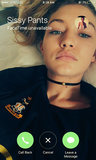 Gigi Hadid might have just been trying to get the attention of her sister, Bella Hadid, and her best friend, Cully Smoller, when she tweeted screenshots from their failed FaceTime sessions. But the Internet noticed something else: the supermodel was lying in bed wearing a Bradford City jersey – and Gigi's rumored beau Zayn Malik is a huge fan of the soccer club.
The Bantams Twitter account quickly sent Gigi a message, offering her the option to trade in her vintage design for an updated style. And that's when Zayn confirmed just what we assumed: the sports shirt just might be from his own closet:
It's a lil old 😉 https://t.co/rlCrp91QaF
– zayn (@zaynmalik) January 1, 2016
Whether or not Gigi borrowed the top from Zayn, we think she looks awfully cute in it, especially with the addition of a trendy, charm-adorned choker. Of course, Gigi's snaps inspired us to try on the athletic look for size, and now we're shopping for a jersey just like hers.
Read on to get another peek at the conversation between Gigi, Bradford City, and Zayn, and then show your support by scooping up the team's seriously cool apparel. We're sure Gigi – and surely Zayn – would approve.
Share:
loading...