Gigi Hadid's Been Switching Up Her Style With Each Singer She Dates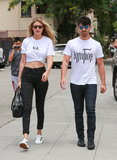 Gigi Hadid's definitely got a type when it comes to guys. Within the past few years, the It girl has soley dated musicians, from Cody Simpson to Joe Jonas and now (maybe) Zayn Malik. But while Gigi's list of lovers happen to share a talent, they differ when it comes to style – both musically and in fashion – and it seems to have influenced her signature look.
From bohemian to athleisure to an edgy rocker mix, Gigi's always changing it up with each new beau, which only proves how versatile this model can be. Read on see the proof in the pics, then check out how Taylor Swift has done the same exact thing. (We're all guilty, Gi!)
Share:
loading...