Gold Is Dakota Johnson's Color -Â as Proven by This Gown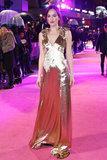 How to Be Single may be a hilarious romantic comedy that focuses on a group of gal pals, but at the film's UK premiere, Dakota Johnson was the one to steal the spotlight. The actress wore a custom Marc Jacobs gown that was elegantly draped, loosely hugging her curves as its train swept across the red carpet.
While the design is made from a crinkly silk that, for some, might not be easy to pull off, Dakota emitted pure elegance. Even as she and her costars – including Alison Brie, Leslie Mann, and Rebel Wilson – huddled under umbrellas, shielding their gorgeous dresses from the rain, Dakota still managed to achieve the sultry, stylish look she was going for. Read on for an all-angles view of her slinky number and take in all the little details, from her ruffled sleeves and Charlotte Olympia heels to her Messika diamond earrings and cuff.
Share:
loading...