I Asked My Boyfriend to Comment on Spring 2016 Trends and This Is What He Said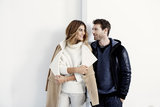 Back when I was in college, I used to joke that I was Mr. Miyagi when it came to men and fashion: date me for a bit, and you might find yourself with a brand new wardrobe, along with a few great styling tips. My current boyfriend, J.T., however, was always somewhat different. Although he trusted my taste from the get-go, he also had great style all his own – despite having ribbon belts and square-toed shoes hiding somewhere in his closet.
Flash-forward almost four years after our first date and J.T.'s knowledge of fashion has only expanded – thanks, in part, to my nonstop chatter about work, celebrity style, and current trends. For example: just the other day he messaged me to say he'd passed by Forever 21, saw a bra with writing on the band, and hey, didn't Kylie Jenner wear something like that from. . . Moschino, is it? Naturally, I decided, he'd have some opinions on Spring '16 styles, so I decided to text him some runway photos and get his thoughts. Read on for his responses – which range from insightful to WTF?! – then see how you can give last year's trends an update for 2016.
Share:
loading...