If These Are the Golden Globes Preparty Outfits, Sunday's Gonna Be Super Glam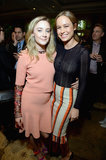 Pantsuits? Prints? Sexy, revealing styles? Only the stars (and their teams) know what's truly in store for this year's Golden Globes, but that doesn't mean we can't make some guesses as to what our favorite leading ladies will wear. So far, they've been dropping hints like crazy, already showing up at preparties in award-worthy ensembles.
A little bit daring and a whole lotta glam seems to be the theme here, and we're hoping it sticks as the countdown to Sunday night continues. Read on to see some of the best looks so far, and then check back as we update this gallery with each stylish bash.
Share:
loading...