It's Hard to Comprehend How Good Ciara Looks in a Swimsuit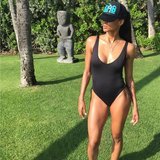 When it comes to vacation photo shoots, Ciara's definitely a pro; just months after Instagramming a batch of sexy swimwear pics, she's at it again – this time, posting some shots of herself in a sleek black one-piece.
But it's not like the star's keeping her vacation photo tips to herself. She even shared some with us last year, including trying on a bunch of suits to find the perfect fit and practicing all your best angles. Read on to see her latest snaps, then shop a similar bathing suit for yourself to nail her style.
Share:
loading...