Jason Statham Gave Rosie Huntington-Whiteley an Engagement Ring Fit For a Supermodel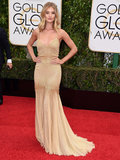 We're pretty into all the sparkling accessories on the Golden Globes red carpet, but one diamond sparkled a little bit brighter than all the rest: Rosie Huntington-Whiteley's brand new engagement ring. Yes, after nearly six years of dating, Jason Statham proposed to Rosie and the duo chose Sunday's award show to reveal her brand-new ring.
Rosie, wearing a gold Versace gown, showed off the massive diamond on the red carpet when she posed solo and alongside her husband-to-be. Considering that twenty-eight year old Rosie and forty-eight year old Jason are usually among the most well-dressed celebrity couples, we can't wait to see what these two wear when they eventually walk down the aisle.
Share:
loading...