Kendall Jenner's Look Is More Disney Princess Than Kardashian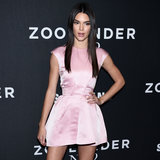 On the runway, we expect Kendall Jenner to transform. On the street and in her own clothes, however, we've come to know the model's own brand of off-duty attire: typically skinny jeans or leggings and a crop top by day, sexy skintight, cutout dresses by night. So, we were more than a little surprised to see Kendall step out for the Zoolander 2 premiere wearing a decidedly girlie dress. Sure, her stems were on full disply, but the bubblegum-pink hue and fit and flare silhouette smacked of something sweeter than we're used to from the top model. More surprisingly, we might be totally into it.
Read on to see the look from every angle and tell us what you think of her style change-up.
Share:
loading...