Kim Kardashian Had a Body Double Try On All Her Maternity Clothes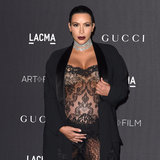 Kim Kardashian welcomed Saint West back in December, but no one can forget the incredible maternity styles she rocked while pregnant with her son. You may have wondered how, exactly, Kim had the time to choose each outfit – and now the secret's out.
Kim has a body double. Her mother, Kris Jenner, revealed in a preview for this Sunday's Keeping Up With the Kardashians that her daughter hired the body double to try on maternity clothes because Kim was too tired to do it herself. The unnamed woman had the same height and structure as Kim and also sported a fake pregnancy belly while trying on these sexy looks. Kim would then take photos of the woman and attach the images on hangers for that certain outfit.
Alas, not all of us have the luxury of hiring a body double, though clearly the whole idea paid off. The rest of us will just have to stick to trying on clothes in front of a mirror.
Share:
loading...