Olivia Palermo's Paris Fashion Week Outfits Are So Good They'll Bring Tears to Your Eyes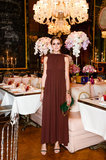 Stepping out of your comfort zone isn't always easy – unless, of course, you've found the proper inspiration. Olivia Palermo, for instance, always rocks daring looks we're dying to try ourselves, and her latest outfits are no different.
Attending Paris Haute Couture Fashion Week Spring '16, the style star's already mixed prints like a pro, amped up tailored pants, and effortlessly rocked a caped gown. So how does she manage to look so elevated and flawless no matter what she's wearing? Easy. It all comes down to styling.
Read on for a few tips we've gathered from Olivia's latest looks, then try her hacks for yourself by shopping similar items.
Share:
loading...