The Big Issue With Sale Shopping That No One Talks About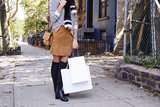 Like any good bargain shopper, I've experienced the strain of navigating crazy sample sales and I've felt the high of somehow scoring the bag I wanted at half the price. I've been lucky enough to scoop up some of my favorite pieces – a Mansur Gavriel bag, Prada boots, even an Alexander Wang dress with the tags still on – in my time as a smart shopper. The fact is that many of the clothes I love are things I could never afford, unless I'm lucky enough to find them somewhere with at least one markdown. So I've devoted myself to the art of shopping smart, with plenty of rewarding results.
Still, despite my devotion to sale shopping my way to my dream wardrobe, there's a dark side to my favorite hobby: buyer's remorse. With sales, it's not uncommon to find exactly what you want, but in the wrong size or color. I can't tell you the number of times I've stared hopelessly at some piece I've been eyeing for months, convincing myself that even though I barely got it on, it will fit fine once I'm home.
With any full-priced item, it's easier to be picky – to hold out for what you really want – to make it worth your money. But when something is on sale, that dangerous question arises, what are we willing to sacrifice for a great deal? There are plenty of times when half a shoe size doesn't really matter – so buy the heels! But there will always be those items that sit sadly in the back of my closet, impulse buys gone awry.
After making the mistake of buying something that just wasn't quite right, I've finally found respite in setting a few boundaries. I've learned to remember that there's a difference between want and need: a great discount doesn't justify buying another pair of skinny jeans. I've also learned to wise up about investing in something that isn't the right size because it will never fit right (unless you know a magical tailor – then size up). Lastly, I've learned that a wardrobe is a work in progress. It's OK to hold off from buying the first leather jacket you find, because inevitably one you love will arrive one day, and you'll regret just going with the one you sorta-kinda like.
I'll always support a trip to a sample sale, or taking a chance to treat yourself when you find something you really love at a discount, but learning not to binge when it comes to sale shopping will leave you with less stress and more money – a win-win, right?
Share:
loading...