The Stocking Stuffers Every Fashion Girl Wants This Year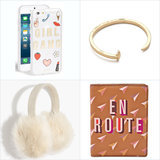 The most elusive holiday dilemma isn't what to wear to the next big shindig, but what the heck to put in the stocking of someone special. If someone's been naughty, then coal is the filler of choice, but what about when they've been nothing but nice? We have some ideas.
From glittering jewelry to a cozy cap, these picks will get the fashion-lover in your life more than a little excited. And for an added bonus, if you really want to pull off the ultimate holiday prank, why not pack her stocking with, well . . . stockings (creative, right?). We've rounded up our favorite 50 pieces so that once the stockings are hung by the chimney with care, you'll know exactly what to fill them with.
Want more ideas for the rest of your list? We've got you covered with our ultimate holiday gift guide – check out the stylish gift ideas for everyone!
Share:
loading...