These 7 Oscar Nominees Just Proved Once and For All That the Naked Dress Is Dead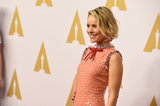 If there's one style we wish would stop popping up on red carpets, it has to be the naked dress. By now, the look has lost its shock value, and we're dying to see some modest dresses and suits take over this award season.
But if today's Academy Awards luncheon is any indication, the barely there look is on its way out. A quick scroll and you'll find this year's fashion-forward crew in high necklines, pantsuits, and a long pair of shorts – but sheer material and low-cut style? Nope, not a one. Read on to view all the standout looks as we keep our fingers crossed that the trend will only continue come Oscars night.
Share:
loading...