We Need to Talk About the Gucci Dress Dakota Johnson Wore on The Tonight Show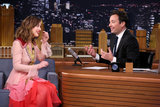 Plenty of stars make talk-show appearances in flashy, memorable outfits. But when Dakota Johnson paid a visit to The Tonight Show, her sugary-pink dress was fit for a princess. Of course, knowing Jimmy Fallon, we expected him to call out her Spring '16 Gucci number in all its glory, and that's exactly what went down.
Scroll to zoom in on the design's glorious sequined details, shared on Instagram by Dakota's stylist, Kate Young. Then watch as Dakota uses a bright yellow phone as a prop, calling out the way it matches her gown, and she and Jimmy discuss who really made her dress. Was it Gucci designer Alessandro Michele or, uhh, AT&T?
Share:
loading...