We Now Know For a Fact That Gigi Hadid Would Look Good in Any Decade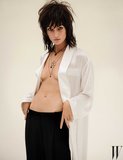 We've always felt that today's top models had enough talent and spark to go from It girl to style icon, but now, W magazine is actually making it happen – kinda. In a new shoot that appears in the publication's March 2016 issue, ladies like Gigi Hadid, Adriana Lima, and Lily Aldridge channel revolutionaries of the past, paying tribute to everyone from Patti Smith to Beverly Johnson by rocking their signature looks.
Scroll through to see all the stunning photos, which prove, in a way, that these gorgeous women were born to be stars in any decade.
Share:
loading...