Whenever Someone Wears This Dress, You Think "Hey -Â I've Seen That Before"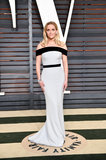 Is it just us, or is there something about this dress? You know – the two-tone black and white gown that balances a feminine off-the-shoulder silhouette with structure. When Reese Witherspoon wore this Tom Ford version to the 2015 Academy Awards, we thought, "Hey, we've seen that before," immediately conjuring images of her 2011 Oscars number, an Armani Privé gown that was opposite in color, but strikingly similar in minimalist design.
Sure, some would say Reese just knows what works for her, but if you've paid careful attention to red carpets since, you'd know she's not the only star showing off the "black and white cookie" look. Read on to see how Amy Schumer, Jennifer Jason Leigh, Rosie Huntington-Whiteley, and even Blake Lively have tried Reese's signature style on for size. And keep your eyes peeled at the next ceremony – we doubt this is the last we'll see of this recognizable silhouette.
Share:
loading...