Why Jessica Jones Has the Best Wardrobe on TV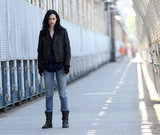 A couple of episodes into binge-watching Jessica Jones, my boyfriend turned to me, somewhat puzzled. "Does she ever shower?" he asked, a hint of disgust in his voice. "I feel like she's wearing the same exact thing she wore yesterday." He had a point – we'd seen her shimmy into jeans she'd picked up off the floor – but within minutes Jessica was rinsing off, debunking our lazy-girl theory.
In reality (or "reality"), the non-superhero-y superhero rocks a different kind of costume. Rather than spandex and heels – something that always made the heavy lifting and crime-fighting extra unbelievable, in my eyes – her outfits consist of closet staples. Jessica can be spotted wearing a leather jacket, jeans, and booties in almost every scene, with slight variations depending on the day or the weather.
After devouring the Netflix series, I found myself reaching for her go-tos on days where I faced major fashion dilemmas. Her look works for a variety of different occasions: laid-back weekends, casual workwear, date nights, and more. Read on to see Jessica's costumes, which may very well be the best on TV, then shop the pieces you need to nail her versatile style ahead.
Share:
loading...