Yeah, You Can Totally Wear Leggings to Work – Here's How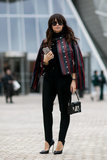 You've worn leggings to the gym and while out running errands, but to the office, that's always been a different story – until now. While many women may shy away from rocking this cozy staple at the workplace, it actually makes for a genius look for the office. Leggings are sleek and understated, easy to pair with your favorite statement-making boots or a colorful coat. And since leggings tend to fit snugly on your body, they're great for layering with looser pieces on top.
So if you're ready to give the office athleisure look a try, we hand selected a bit of inspiration to get you started. These 23 street style looks are ideal for re-creating – and rocking from 9-to-5 – as long as your office dress code allows it. Just scroll for a little refresher on how to rock leggings IRL and ITO (in the office)!
Share:
loading...