You'll Immediately Fall in Love With Kate Hudson's White Jumpsuit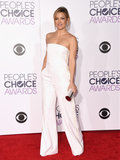 As far as award shows go, the People's Choice Awards are definitely on the more casual side. You don't have to show up in a long, flowy ball gown: you can rock pants, just like Kate Hudson did in a white structured jumpsuit.
The star looked both effortless and elavated, skipping a necklace and pairing her wide-leg one piece with drop earrings and a matching clutch. Considering this is the first of many red carpets to come, we're hoping Kate's setting the trend for 2016 – pants for everyone this year! Scroll through to see her look in full, then stay tuned as we show what all your favorite stars are rocking.
Share:
loading...