You'll Never Believe Where Demi Moore Found Her SAG Awards Gown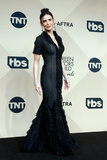 When Demi Moore took the stage during Saturday night's Screen Actors Guild Awards show, our thinking went something like this: "Wow, she looks amazing. Also, that dress. Chic. Understated. But where did it come from?!" Well, ladies and gentleman, Demi is just like us – she dug all the way back into her own closet to pick out a dress she acquired over 10 years ago.
And thanks to the magic of social media, the mystery of her dress's designer was soon solved. Zac Posen, an avid Instagrammer, shared two photos of Demi in the dress that he designed back in 2002. "What a wonderful surprise for me to see my pal #DemiMoore wearing her own vintage #ZacPosen gown from my second collection many moons ago while presenting at the #SagAwards tonight!!!," he wrote. Thank you, Zac, for clarifying.
Share:
loading...