You'll See These Couture Gowns on the Red Carpet – Unless the Disney Princesses Grab Them First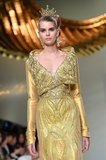 The Spring '16 Couture runways were made up of gowns with glass beads and sequins that shimmered and shined. They were so magical, they might as well have been embellished with pixie dust. In fact, they could have been. That is, if you use your imagination.
While talented designers like Zuhair Murad and Elie Saab dress plenty of stars on the red carpet, we say it's time they take a break and let our favorite Disney princesses try on their gowns for size. Read on to expend all doubt and see Ariel, Sleeping Beauty, Elsa, and more in some of this season's finest Couture.
Share:
loading...